The Kitchen Blues
Do you love spending time in the kitchen? This room has become the heart of the home. It's where you have that first cup of coffee or tea, pack the kid's lunches and bake holiday treats. It's the most visited and used room in the house but do you still love looking at it? Has it lost it's freshness and is now worn out and boring? A brand new kitchen is on a lot of vision boards these days, however it can be a costly investment. Consider installing a new tile backsplash and under cabinet lighting. It may be all you need to revitalize that tired kitchen.Tiles are available in vivid colors, interesting prints and a variety of materials today. All you need is some imagination. Here are some ideas to get you started.
Fun and Colorful
Colorful tile and paint gives these kitchens a bright and cheery look. For an additional pop of color, paint the back wall of the glass front cabinets.Under cabinet lighting provides soft lighting and shows off that jazzy new backsplash.
Glossy and Clean
Check out these beautiful subway tiles. Are you getting some good ideas yet? If you love a tile that's a little pricey, use it as an accent with traditional porcelain tiles. Tiles are available in glass, metal, marble and other natural stone. Make your own mix, keeping in mind that any extra cuts on the tile will likely increase the material and labor costs.
Glass tiles reflect light to brighten dark kitchens. LED lights mounted underneath cabinets add functional lighting and create a nice ambiance.
Make a right turn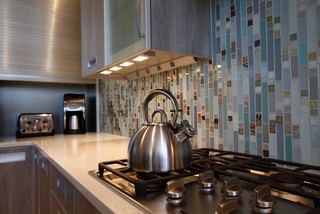 Why go horizontal with linear mosaics? A vertical application looks fresh and interesting.Not sure where to start and stop the backsplash?
Take a look at this helpful article from Houzz
Schmidt Custom Floors has many beautiful tiles in colors, shapes, sizes and materials. Let us help you create a unique look for your backsplash. Call us at
970-663-7402
to schedule a showroom appointment or stop in to see us Monday through Friday between 9:00 am and 5:00 pm.